HubSpot websites: Find out how to quickly work out a budget (with examples)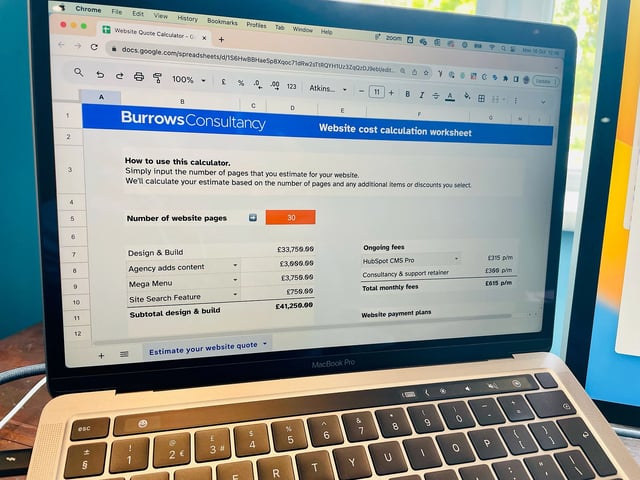 In this article:
Imagine this. You've super busy, but need to find out how much something costs. You dedicate a couple of hours searching for information online and you come across a website that seems to offer just what you need. So you start reading about the solution that's going to solve the nightmare that you are having.
But there's something missing.
There's no pricing information. None at all. Or even worse, you're asked to provide your email to request it!
The frustration of hidden pricing
Isn't this sort of thing so frustrating when we're used to getting information immediately. To be asked to wait, or write off and have it sent back to you. It's too old school for me and I'd argue it's a red flag.
Most people will just leave the page and try to find someone else that does put the pricing online.
Now, let's apply this mindset to a HubSpot website project. How much does it cost to design and build a HubSpot website? If you're in the market for one, you probably want to try and find this out.
This post is going to show you how I work out the fees that we charge for HubSpot website projects. I'll be as transparent as I can and hopefully it's not too complicated to follow.
I'll look at a small business upgrading from a 10 page WordPress to HubSpot, and a larger project with 30 pages that is more complex and will likely take longer to complete.
I'll discuss what it costs to build the new website, and what you can expect to pay after the relaunch. And yes, we'll do it without you having to call me or send me your email address!
So, grab a coffee and let's spend 10 minutes going through the cost of designing, launching and maintaining a HubSpot website.
A guide price for a HubSpot website
Once you find a website that openly displays its pricing, it easy to work out a budget. It might not be a finalised fixed quotation but it should be enough to give you an accurate guide price. The important thing is that you leave the website with a clear understanding of how much the service will cost, what you'll receive, and how long it's expected to take.
When I'm buying something I usually start with a base price and then look at any additional options or add ons. A bit like buying a car.
With a website project, you might find that you are able to add on extras further down the line. Or even take care of some of these extra tasks within your own team, and this is good because it will help keep costs down.
How to estimate the price of small vs. large HubSpot websites
Let's start by defining the size of your website. We work on both small and larger websites.
Small websites
From my experience 'small' websites usually have around 5-10 pages. They include top level information about the company and the products or services that it provides.
These websites have simple, user friendly designs, with easy to access content, with a 'moderate' level of interactivity. They will have a contact form where users can request more information via email, and the contact is stored in the HubSpot CRM.
This clear focus on a single purpose, allows for faster, lower cost development. They are usually the choice for startups who are looking to launch quickly, or companies looking to restart their digital strategy.
Typically, this type of project can be completed within about 30 days, with a budget ranging from £10k to £20k.
Larger websites
Larger and more 'complex' websites (say 30 pages+), designed for more established businesses, require a bigger budget, usually starting at around £30k and can often exceed £50k or more. I would normally expect a project timeline of around 60-90 days.
These larger projects often include specialised functionality such as:
Membership login systems
Customer portals
Integrations with apps and APIs
Interactive graphics and multimedia elements
Advanced campaign reporting tools
Sales and marketing automation workflows
So let's break this down. Why does one website cost £5k and another cost £50k? Let's talk about what you're getting for your money.
Understanding website costs
At Burrows Consultancy we always start every project with two fixed deliverables. These are essential and come as standard. They are:
Project set up:

We've got a fixed base cost to kick things off. This includes setting up your project, installing the software and getting the theme in place.
Standard add-ons: Every website project comes with some things we have to do every time regardless of size. This will include things like checking if it works well on all devices, creating the system pages (404 etc), project management, getting the site live, and giving you the training you need.

Standard add-ons are charged at 10% of overall project cost.
Now let's look at the other variables that will set your project budget
Work out if you need all these things, and use this number to set your budget
Modules and pages: So, the more stuff your website has—like different sections or pages—the more work it takes. Each of those pages needs designing, building, testing and approval.

Budget for £1,150 per page.

Adding content:

You can't have a website without content, right? And on a bigger site, this can be a big job. All that text and imagery needs to be put in place and tested.

Add content:

£100 per page.

Navigation:

On a big website, you need a navigation system that's easy to use. You'll probably need a mega menu which will cost a lot more than a simple menu system.

Standard menu: £375.
Mega menu: £750 - £3,500.

Campaign landing pages:

If you're trying to get visitors to do something specific, like signing up or buying something (convert), you'll need landing pages designed for that. These need to be designed, built and tested.

HubSpot landing pages: £1,500.

Site search:

A search feature on your site helps people find information quickly. But building that in adds to the bill too. A site search feature on HubSpot including a search results page will take 1 day to complete.

HubSpot site search: £750.

Contingency planning:

It's always a good idea to set aside a contingency fund in your budget to accommodate unexpected expenses or scope changes. Having a buffer will help you handle unforeseen circumstances.

I recommend allowing 10% contingency.

Copywriting: If you need professionally crafted website content you'll need budget for this.

Copywriting: £300+ per page.

Visuals: You've got a couple of options for this. You can choose stock imagery, or a professional to create unique images for you. Or even combine both. So set some budget for searching for and purchasing imagery.

Stock illustration and photography: £70 per page.
Commissioning an illustrator of photographer: £500+ per page.
Ongoing operational costs
Consultancy retainer:

To retain our consultancy services, we ask for a monthly fee of £300. Our standard monthly fee gives you unlimited consulting time for all the questions you might have, or advice you need. You get to use our ticketing system and this includes up to 3 hours of hands-on support each month.

HubSpot CMS license:

To power your HubSpot website, you'll need a HubSpot CMS license. Depending on which option you choose this will be priced from £21 per month. This includes hosting fees and all new feature updates will be added to your CMS by HubSpot. Security features are also included, so you don't need to worry about any security or hosting issues.

CMS software subscription: From £21 p/m.
How to get a discount on your HubSpot website project
Now that you are able to calculate an overall budget based on the information you have so far, let's look at ways to save you some money.
Here's what you can do to save money on your HubSpot website design project.
Discounts for reviews and case studies
Building our reputation is extremely valuable to me, so I have decided to offer new clients fixed discounts based on sharing links, reviews or providing video testimonials.
If you add our link to our site in your website's footer, I'll discount your project cost by 1%.
Leave us a nice

testimonial

on the HubSpot partner ecosystem, and you'll get another 1% off.
Drop a Google review, and I'll give you a further 1% off the final bill.
If you sign up to a HubSpot Pro or Enterprise account using us as your onboarding partner we will reduce our project fee by 5%.
Now, if you really want to save big, give us a short video case study, and I'll cut a further 5% off the price!
And that's good because taking advantage of these discounts means you could lower the cost by up to 13%!
This means a discount of up to £5.2k a £40k project, and for a £10,000 project, that's an £1,300 saving. I don't know of any other HubSpot partners that are offering similar savings to this.
Learning content management cuts costs
HubSpot CMS is easy to use. You can learn how to manage some parts of the website yourself. We'll teach you or your team how to add text and images once we've got the designs in place.
Potential saving: £100 per page.
How to calculate your HubSpot website project cost
Armed with this information you can now take some time to calculate the estimated costs to determine your total project budget. It's important to be thorough in your calculations to avoid any unexpected budget surprises as the project progresses.
Count up the number of pages that you think you need. Multiply it by our cost per page (£1,150).

Add our standard set up fees.

Add in any additional third party service fees (Photographer, illustrator, copywriter)
Allow for your HubSpot CMS subscription and retained consultancy fees.
Calculate Total Cost.
Account for Taxes and Fees: Remember to account for vat at 20%.
An example budget breakdown
Example 1

Simple website with 10 pages
Design and build
(10 pages @ £1,150 p/p)
£11,250
Adding content
(10 pages @ £100 p/p)
£1,000
Simple menu
£375
Subtotal design & build
£12,625

Discounts applied
Site link, Google review, HubSpot review (-3%)

(£378.25)
Final design & build
£12,246.25
Set up costs
(Core software, project management tools)
£300
Standard add-ons
(10% of subtotal design & build )
£1,262.50
Final project cost
£13,808.75
Annual HubSpot Starter CMS subscription
£21
Burrows consultancy & support retainer
£300
Ongoing monthly cost
£321
Example 2

Complex website with 30 pages
Design and build
(10 pages @ £1,150 p/p)
£33,750
Adding content
(10 pages @ £100 p/p)
£3,000
Mega menu
£3,750
Site search feature
£750
Subtotal design & build
£41,250

Discounts applied
Site link, Google review, HubSpot review, video testimonial (-8%)

(£3,300)
Final design & build
£37,950
Set up costs
(Pro software, project management tools)
£3,000
Standard add-ons
(10% of subtotal design & build )
£4,125
Final project cost
£45,075
Annual HubSpot Pro CMS subscription
£315
Burrows consultancy & support retainer
£300
Ongoing monthly cost
£615
Next steps
Now that you have got to the end of this article, here's what I would advise.
Think about what would be the essential elements (the absolute MUST HAVE's) that need to be included in your website. Count up your best guess at the number of pages that you think would need to be created. Do the sums and get your ball park number.
If it's too high you'll need to simplify your launch requirements or roll them out at a later date.
I believe that starting with something that's simple and building up from there is the best approach to a modern website. Remember - you don't need to build all of your ideas at once.
If you have any questions I encourage you to book in a call with me and we can discuss the best way to get the most out of your budget. Maybe I can even help you save more money.